Blueberry cream cheese pie:

1 cup of blueberries

1 cup of sugar

2- 8 oz packages of cream cheese

Mix well

Pour into pie shell

Bake 350- for 25 minutes or until the filling is bubbling and the crust is a golden brown

Cool and top with:

Whipped cream and berries

or

8 oz of sour cream mixed with 2 Tbs confectionary sugar and garnish with berries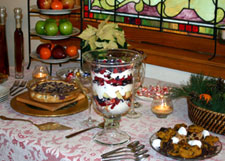 Trifle:
Ingredients:
Angel food cake
Pound cake
1 cup of each: Blueberries, raspberries, strawberries and blackberries
Whipped cream
Strawberry flavored yogurt
Procedure:
Cube angel food and pound cake
            Toast in oven at 400 for 5 minutes
Blend whipped cream and yogurt
Layer in a clear glass bowl, dish or individual serving dishes----clear glass is best!
Begin with cakes, followed by cream, and then fruit, continue layering…..
Enjoy!