Rib-Eye Steak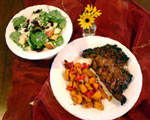 Marinade in a zip lock bag with the Secret Sauce just covering the meat for 1 –2 hours.

Best BBQed for 10-15 minutes (for med) flipping once. Baste when turned.  If roasted in oven, preheat @450, place in a roasting pan, turn temp down to 375 and baste ever 5 minutes- for 15 minutes (for med).  I sometimes turn on the broiler at the last 4 minutes to give crisp the edges.  Check for your desired temp-red is rare, pink is medium, and brown is well doneJ
Best accompanied with:
Roasted Sweet Potatoes 
     Cut sweet potatoes into cubes, toss in a bowl with a bit of canola oil, pepper, just a bit of salt and some crushed red chili peppers (the amount is at your discretion---but just a sprinkling is a must!).  Preheat oven to 400.  Place cubes on a cookie sheet-spread them out.  Cook for 5- 10 minutes (they should be sizzling a bit) then loosen and turn with a spatula---(shake 'em up a bit). Continue to cook for 5- 10 minutes more---they should be crispy on the outside and tender in the middle.  For color: chop up a red bell pepper and add to the bowl of potatoes before seasoning.  The red and orange look great together on the plate.  And don't forget: sweet potatoes are better for you than white ones
Fresh Baby Spinach
  It must be the baby leaves.  Toss with some feta cheese (any flavor is good) and chopped apples (Macintosh is best in this salad) and a bit of balsamic vinaigrette, toss well before placing on plate.  Some  additions for this salad are walnuts (caramelized) and dried cranberries.
Make The Ordinary

Extraordinary